May 17, 2023
According to detection statistics collected by Dr.Web for Android, in March 2023, members of the Android.HiddenAds and Android.MobiDash trojan families continued to be among the most widespread Android threats. The activity of the former remained at the level of the previous month and increased by an insignificant 0.16%, while the latter attacked users 11.89% more often. Spyware trojans were detected 5.01% less frequently, and a significant portion of these was once again represented by different variants of a trojan hidden in some unofficial modifications of the WhatsApp messenger.
The number of banking trojan attacks increased by 78.47%. Users were most likely to deal with Android.BankBot trojan family members, which accounted for 73.06% of the detections of this type of threat. At the same time, the activity of ransomware malware from the Android.Locker family increased by 0.47%.
In addition, Doctor Web's virus analysts discovered a large number of malicious apps from the Android.FakeApp family on Google Play. Threat actors used these in various fraudulent schemes. Moreover, our specialists identified cases where the system partition of an Android TV box model was infected with the dangerous Android.Pandora.2 backdoor. This piece of malware is capable of executing various malicious actions upon receiving commands from threat actors.
PRINCIPAL TRENDS IN MARCH
An increase in adware trojan activity
An increase in banking trojan and ransomware malware activity
A decrease in spyware trojan activity
An infected system partition for one of the Android TV box models
The emergence of more threats on Google Play
Mobile threat of the month
In March, Doctor Web's virus analysts identified cases where the system partition of a particular Android-based TV box model was infected with the Android.Pandora.2 backdoor. The Dr.Web anti-virus installed on the affected devices detected the new files in the protected file system area, and this trojan app was among those files. When commanded by malicious actors, Android.Pandora.2 can modify or completely replace the system hosts file (responsible for converting domain names into their corresponding IP addresses) to carry out DDoS attacks, download and install its own updates, and perform other malicious actions.
According to statistics collected by Dr.Web for Android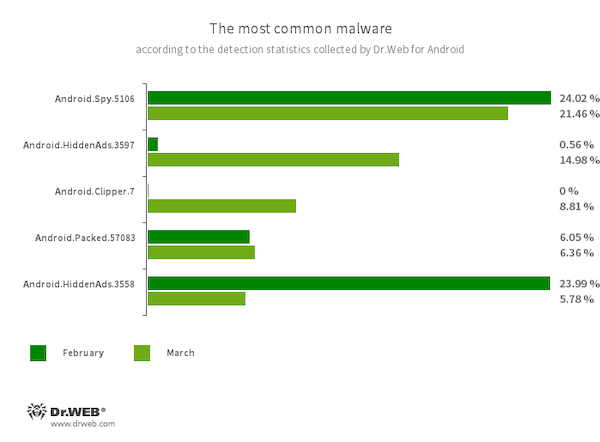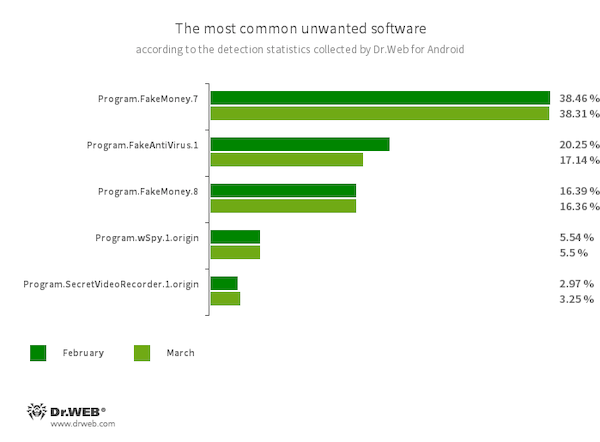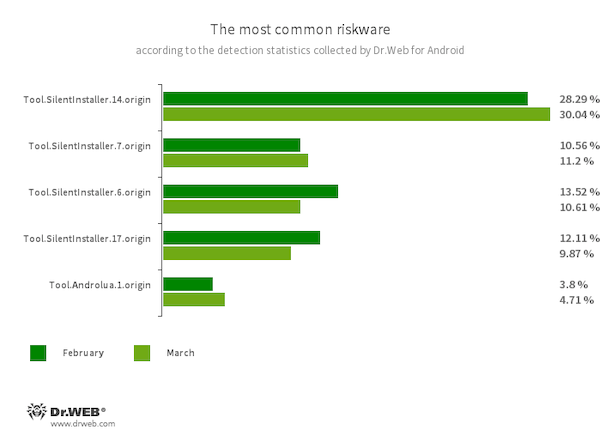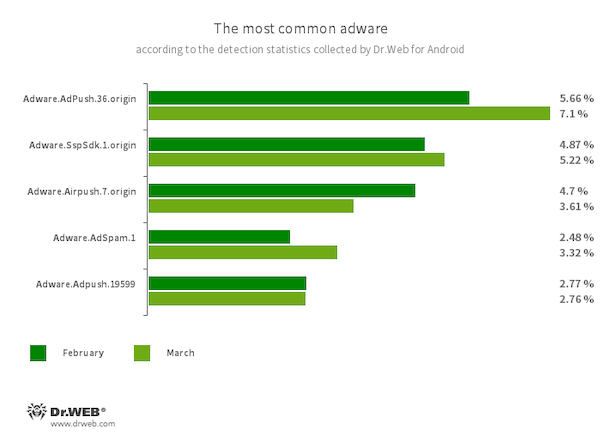 Threats on Google Play
In March, Doctor Web's specialists identified dozens of new trojan apps from the Android.FakeApp family on Google Play. They were distributed under the guise of different useful applications, but their real functionality was to load various websites. Many of these, like Android.FakeApp.1251, Android.FakeApp.1254, Android.FakeApp.1257, Android.FakeApp.1258, Android.FakeApp.1260, and Android.FakeApp.1294 cybercriminals passed off as financial software. For example, victims could download them as reference books and teaching aids, instruments for accessing investing platforms and trading different assets, programs for housekeeping, tools for taking polls and participating in surveys, and others. Such fake apps could load fraudulent sites where users were offered an alleged opportunity to access investing services by providing personal information and registering an account.
Other such programs, like Android.FakeApp.1252, Android.FakeApp.1255, Android.FakeApp.1268, Android.FakeApp.1272, Android.FakeApp.1278, Android.FakeApp.1280, Android.FakeApp.1297, and some others, were again distributed as different games. But instead of providing the expected functionality, they could load websites of online casinos.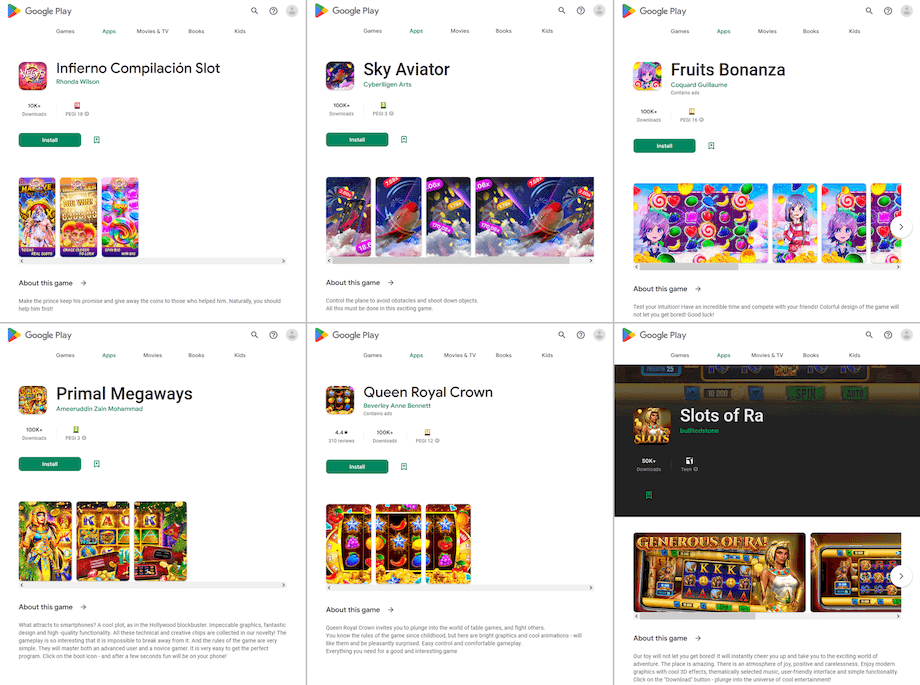 Below are examples of how such trojan apps would execute gaming functionality:


And examples of the casinos' websites they could load: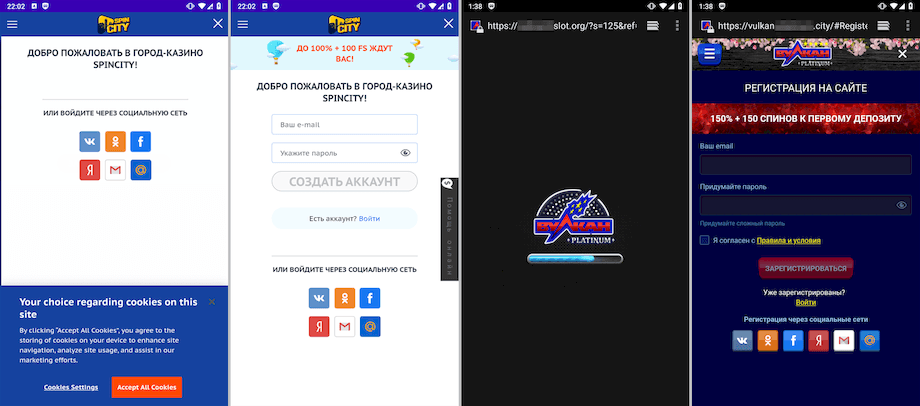 Our specialists also identified more fake programs disguised as job-search software. This malware loaded websites with a fake list of vacancies. Upon selecting the position they were interested in, potential victims were asked to fill out a special form by providing personal information or were offered to be put in touch with the "employer" via messengers like WhatsApp. Dr.Web detects these trojan apps as Android.FakeApp.1133 and Android.FakeApp.23.origin.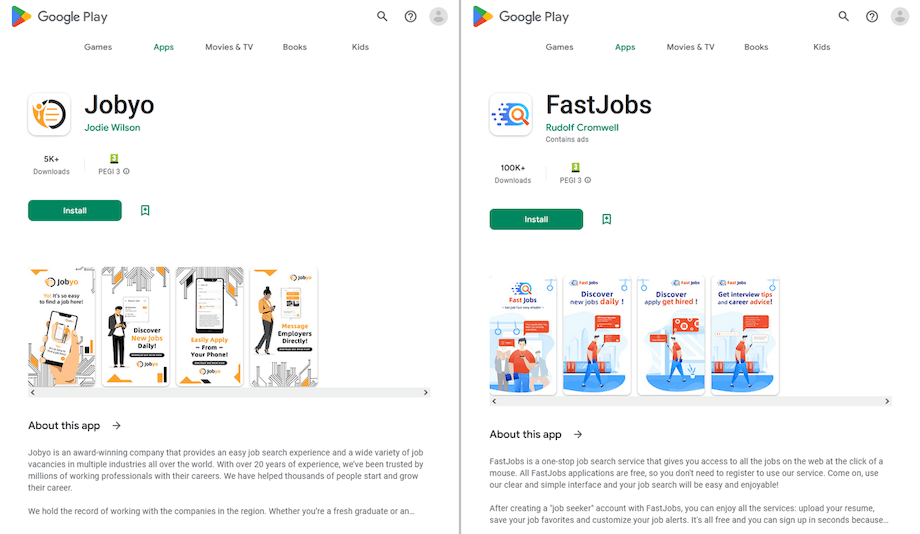 To protect your Android device from malware and unwanted programs, we recommend installing Dr.Web anti-virus products for Android.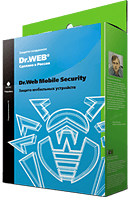 Your Android needs protection.
Use Dr.Web
The first Russian anti-virus for Android
Over 140 million downloads—just from Google Play
Available free of charge for users of Dr.Web home products