June 14, 2023
According to detection statistics collected by Dr.Web for Android, in April 2023, users encountered Android.HiddenAds adware trojans 16.13% less often, but Android.MobiDash adware trojans 40.42% more often, than in March. At the same time, this type of Android malware remains one of the most common threats for the Android platform.
Spyware trojan activity decreased by 27.89%. Once again, different variants of a specific spyware trojan (including Android.Spy.5106 and Android.Spy.4498) hidden in some unofficial modifications of WhatsApp messenger were most often detected.
The number of banking trojan attacks increased by 32.38%, and the number of Android.Locker ransomware attacks increased by 14.83%, compared to March.
During April, Doctor Web's virus analysts discovered other malicious apps from the Android.FakeApp family. Attackers used them in various fraudulent schemes. Moreover, cybercriminals distributed a trojan app from the Android.Joker family via Google Play. This malware subscribed victims to paid services.
PRINCIPAL TRENDS IN APRIL
An increase in Android.MobiDash adware trojan activity
A decrease in Android.HiddenAds adware trojan activity
An increase in banking trojan and ransomware trojan activity
The discovery of other threats on Google Play
According to statistics collected by Dr.Web for Android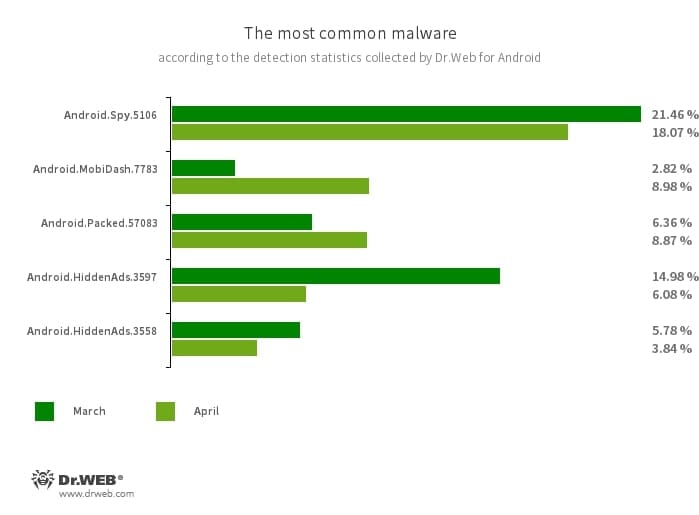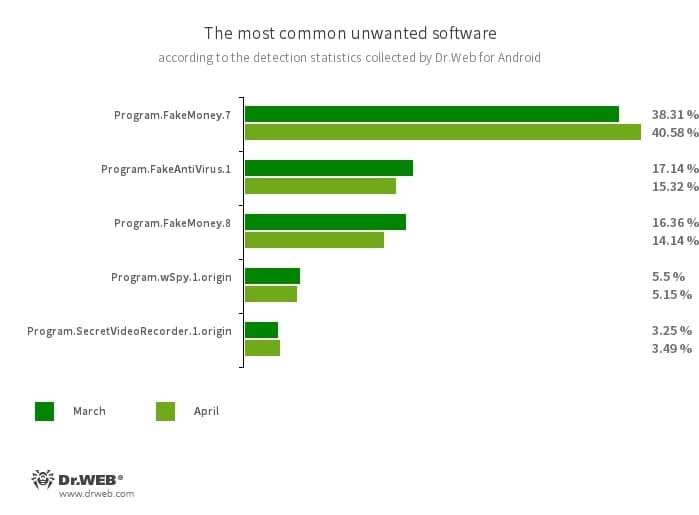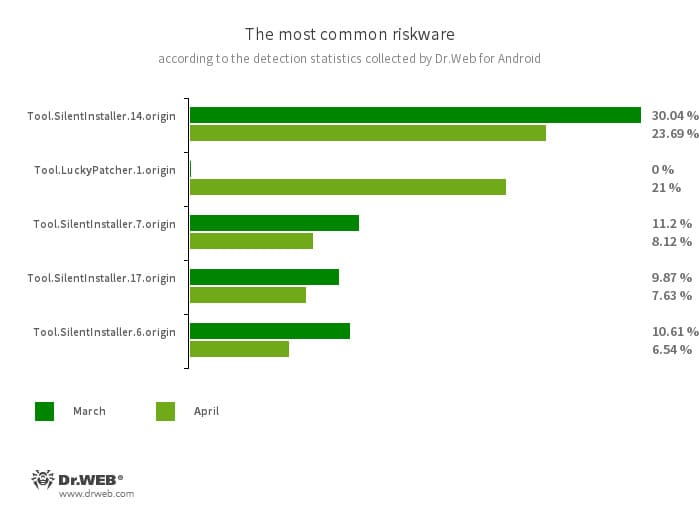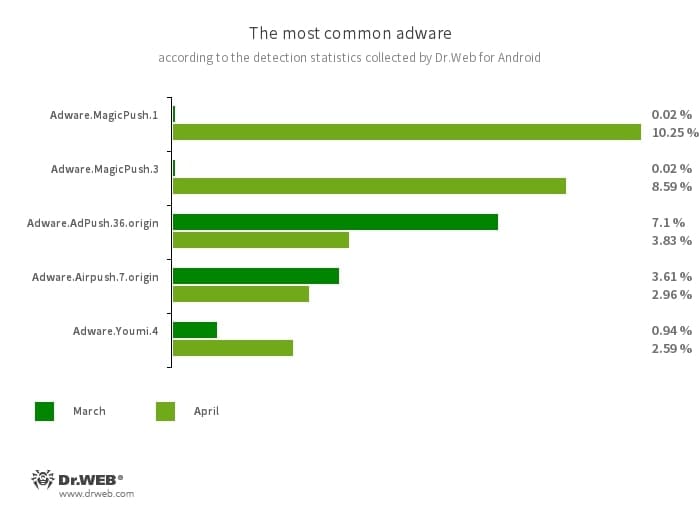 Threats on Google Play
In April, Doctor Web's malware analysts discovered over 30 malicious apps from the Android.FakeApp trojan family on Google Play. Some of them (like Android.FakeApp.1320, Android.FakeApp.1329, Android.FakeApp.1331, Android.FakeApp.1336, Android.FakeApp.1340, Android.FakeApp.1347, and others) were distributed under the guise of financial software. These included various reference books and investment teaching aids, trading instruments, apps for participating in polls and surveys, and so on. However, their real functionality was to load fraudulent websites, which malicious actors used in attempts to collect their victims' personal data and steal their money.
Fraudsters passed off other such programs, like Android.FakeApp.1322, Android.FakeApp.1326, Android.FakeApp.1330, Android.FakeApp.1334, Android.FakeApp.1337, and Android.FakeApp.26.origin, as games. But instead of the expected functionality, these programs could load online casino websites.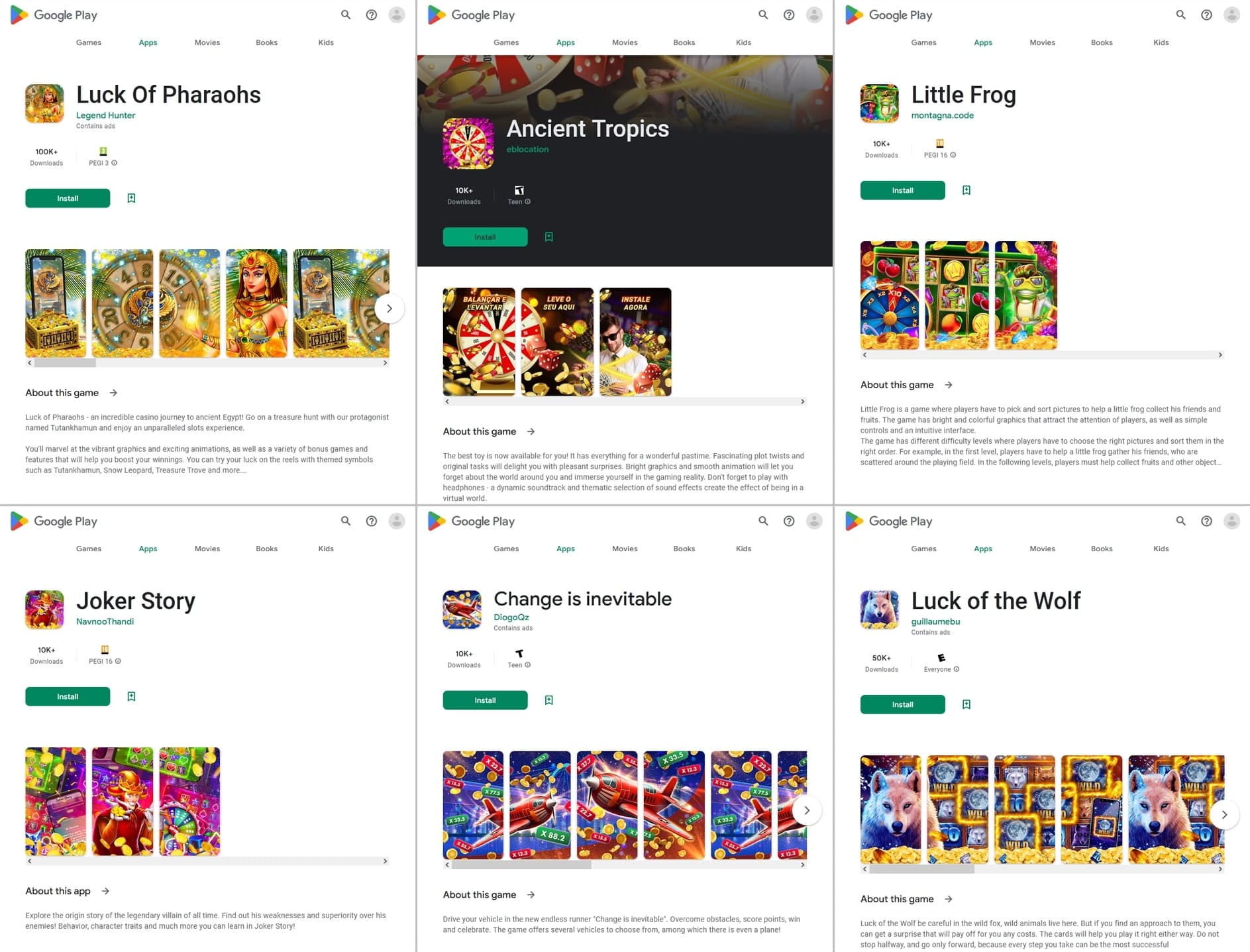 Examples of their two-sided nature are shown below. The first image depicts their ability to provide gaming functionality. The second one depicts how they load online casino websites.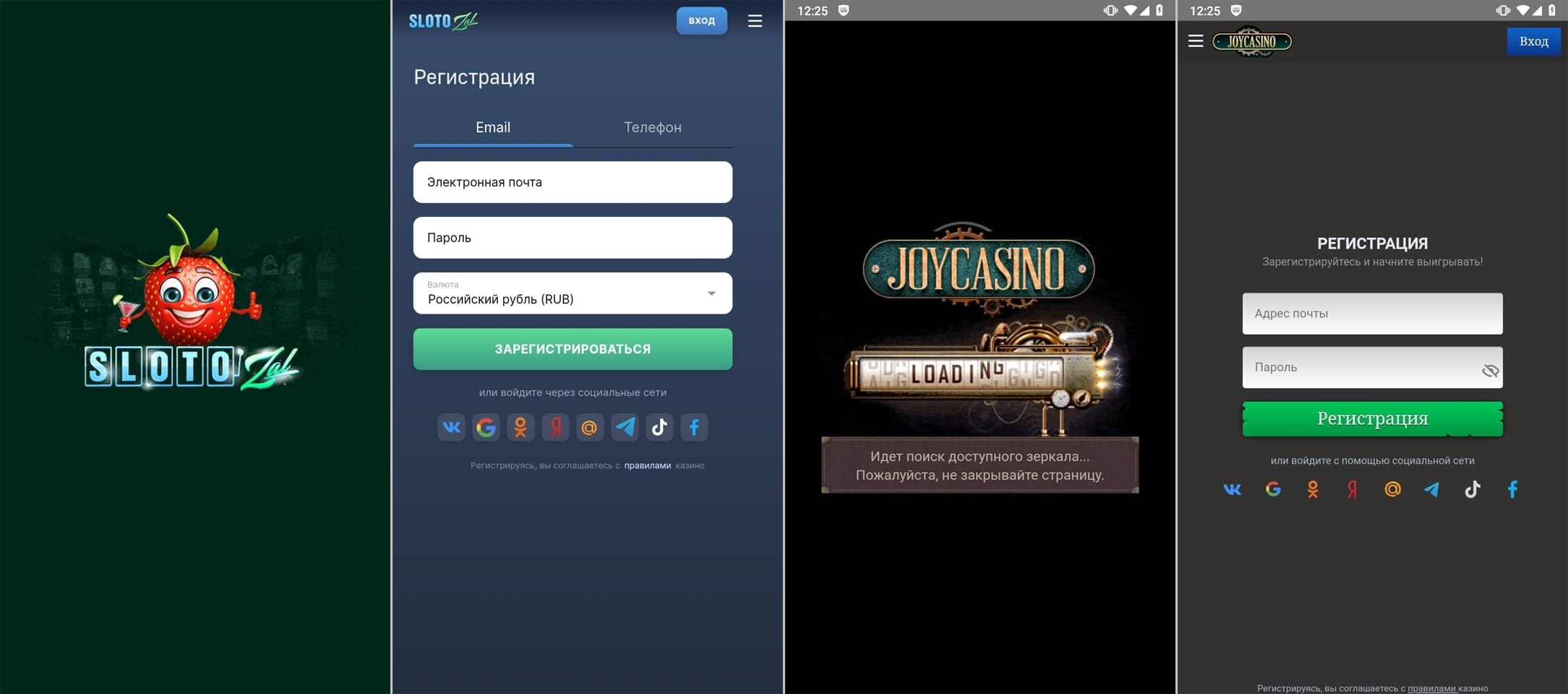 In addition, our specialists discovered other fraudulent applications that malicious actors were distributing as job-search software. Dubbed Android.FakeApp.1307 and Android.FakeApp.1324, these members of the Android.FakeApp trojan family asked users to provide personal information by filling out a special form or to contact "employers" through messengers.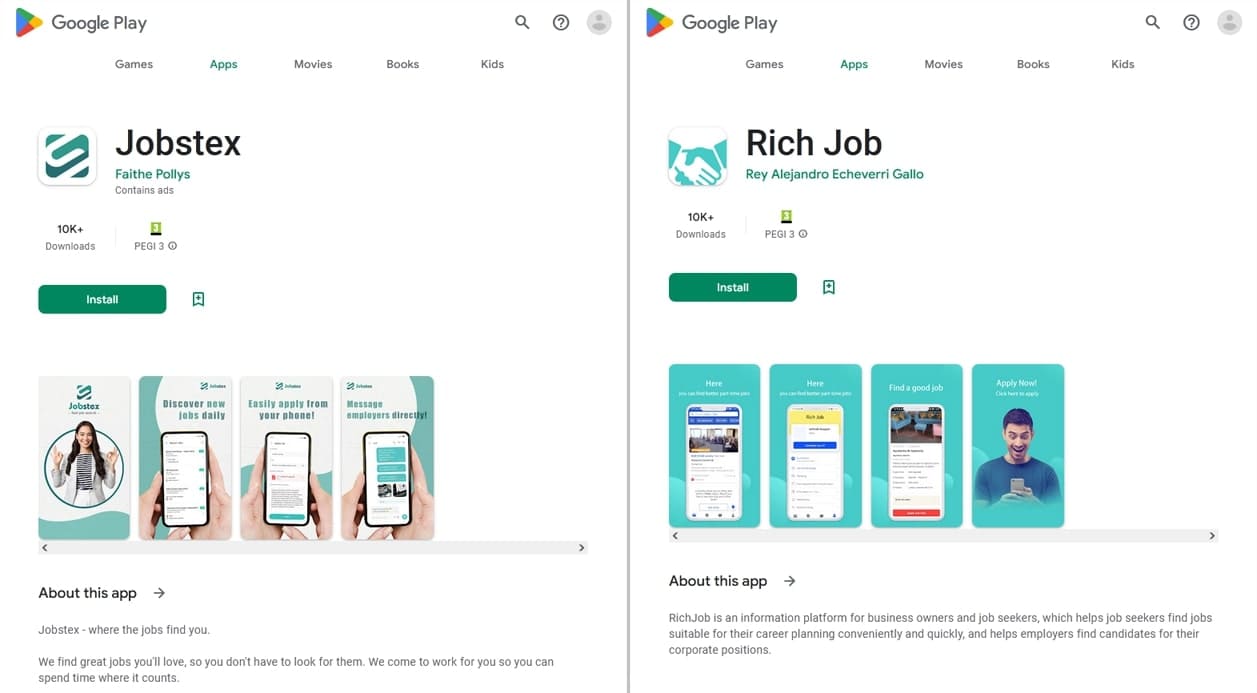 At the same time, attackers distributed the Android.Joker.2106 trojan app via Google Play. This piece of malware subscribed victims to paid services and was hidden in an app designed to create and work with signatures.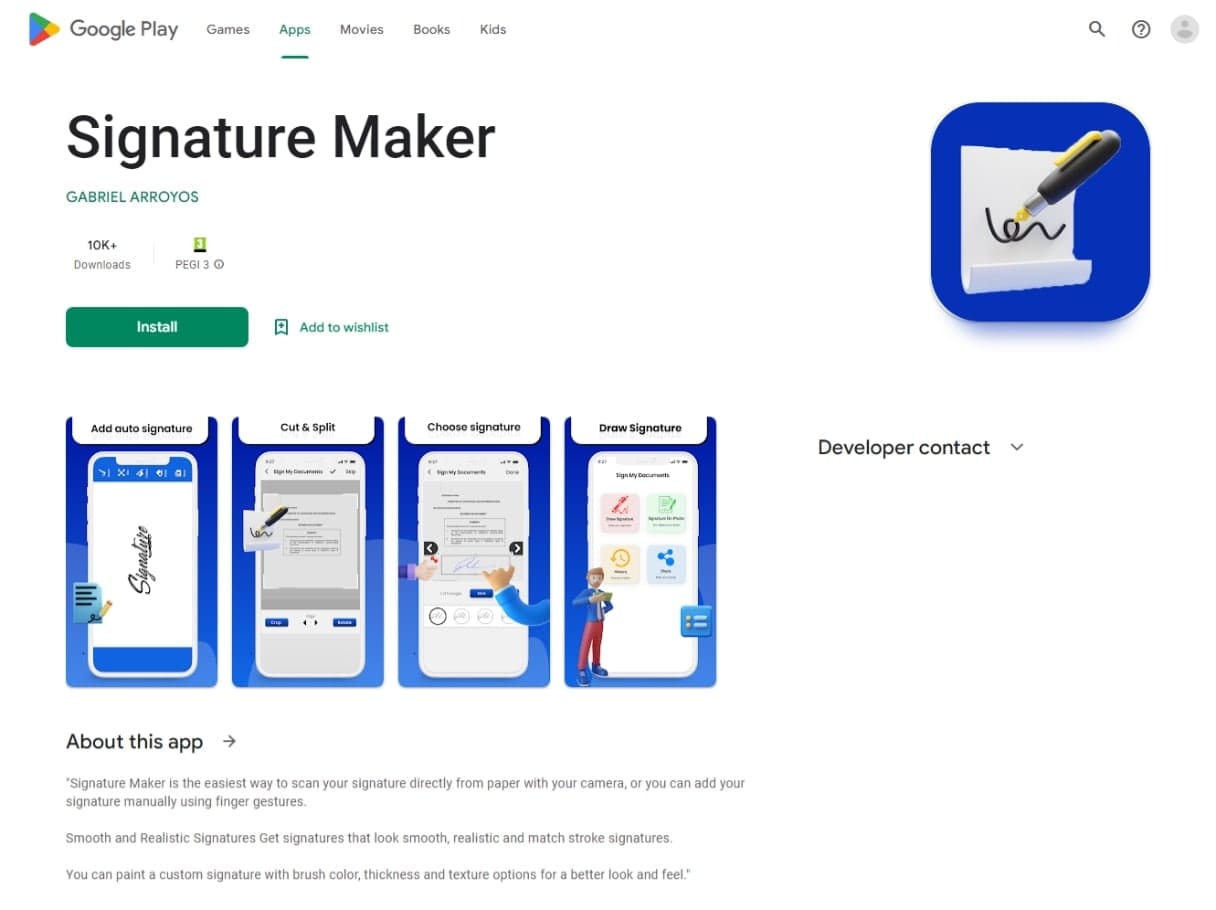 To protect your Android device from malware and unwanted programs, we recommend installing Dr.Web anti-virus products for Android.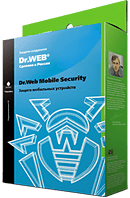 Your Android needs protection.
Use Dr.Web
The first Russian anti-virus for Android
Over 140 million downloads—just from Google Play
Available free of charge for users of Dr.Web home products